Understanding what's effective for a salesperson or a sales team isn't always the easiest thing to do. Closed deals and tangible results are good for measuring success, but they don't answer the question of how you got there. Having clear insight into the sales process as well as individual and team performance can help speed up and fine-tune your selling. We've built a suite of reports to give our users exactly that. All of our reports are built both on the personal and team level, so you'll always be able to see performance by individual and across your entire organization.
New to Yesware? Sign up for a free trial!
This article contains the following topics:
How to use Tracking Reports
How to use Activity Reports
How to use Template Reply Reports
How we use Salesforce Reporting and Dashboards
Tracking Report
The Tracking Report details your outbound prospecting performance in an easy-to-read graph with details including emails sent, emails tracked, and open / reply statistics. The personal version of the tracking report allows you to filter, sort, and search your full email tracking history while also giving you a quick-view of your past 30 days. Using the filtering, you can see a full history of your communications with specific prospects as well as their history of how they interact with your messages. The team version of the tracking report will summarize all of this data across each individual member of your team, showing totals for emails tracked, reply rates, and more. You can see date for up to 180 days and customize the date range. On the Team or Enterprise tier of Yesware, a sales manager can drill-down into each individual team member and see full details of their personal tracking report as well.

Activity Report
The activity report provides a quick overview of how you've been using Yesware to communicate with your prospects. The activity report has a rolling 30-day window with all of your activities summarized in simple buckets, helping you understand where you focus most of your efforts.
When looking at the personal version of the Activity Report, we'll show you exactly how many emails you've sent out over the last 30 days, how many you've logged directly to your CRM using Yesware, and how many templates you've used. In addition, template use is summarized by category, showing you a distribution of your prospecting efforts by campaign or position in the sales cycle. The team version of this report summarizes this data across all members of the team in both list and chart form. Users on Yesware's Team and Enterprise tier will be able to click on individual users and drill-down into the activity of each user, allowing sales managers to know exactly how their team is performing and what actions are being utilized.
Template Reply Report
The first feature that we built at Yesware was templates – it's no surprise that we also have robust reporting around templates. Once you've designed the templates that most effectively get your message across, we'll give you feedback on exactly how engaged your prospects are with them. When you're viewing your personal template reply report, you'll see each template listed out individually and how many times you've used it, how many replies you've received, and what your reply and open rate are. After utilizing your templates for a week or two, this report will help determine which ones are the most effective in getting your prospects engaged, allowing you to pivot toward the ones receiving the most positive response. As a sales manager, identifying the most effective templates is key to overall group success. The team version of the Template Reply Report includes all the same detail as the personal version for all members of the team. In addition, you'll be able to easily identify which templates are and are not shared with every member of the team. Finding effective templates and getting them in everyone's hands has never been easier!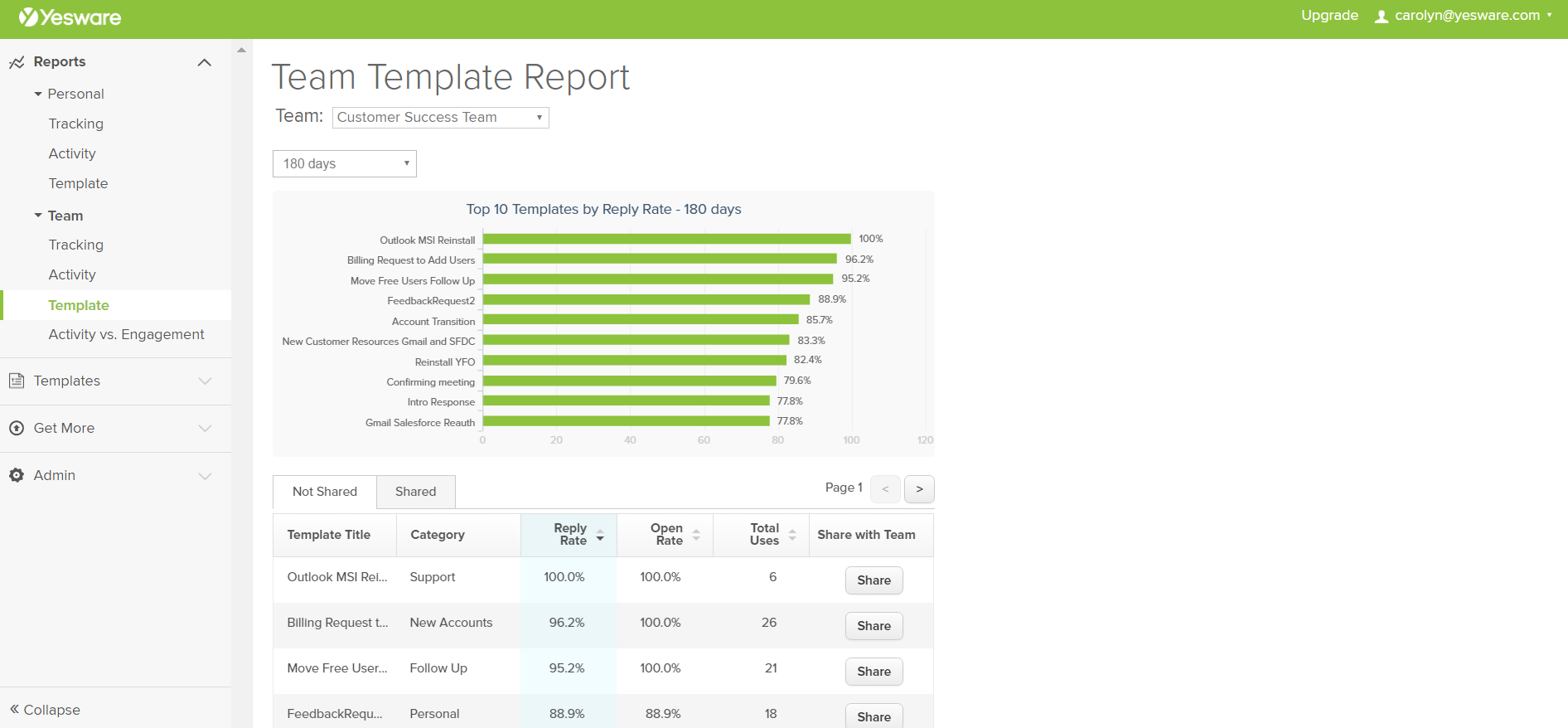 Salesforce Reporting & Dashboards
Users on our Enterprise plan have access to our full integration with Salesforce. We'll automatically capture all of your Yesware activity, associate it with the correct contact or lead, and store that information in your Salesforce account.
Since we standardize the way that we log our data, it becomes quick and easy to use the Salesforce reporting tools to see exactly how each individual prospect has progressed over time from initial contact to closed deal using Yesware data. We package a few sample reports, but there are no limitations to what you can use this data to discover!